Case Study – Service Bureau
Elision chose the SunRise S2500 microfilm scanner to capture over 600,000 grayscale images per day.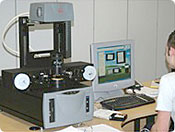 With their existing scan on demand system operating at full capacity and an impending 50% increase for access to their microfilm records, this client looked to Elision for a solution that would enable them to meet the targeted increase in productivity with existing staff resources.
After extensive benchmark testing of products within the film scanning industry, Elision made the choice to invest in the SunRise S2500 microfilm scanner to meet the significant quality and timescale challenges of this project. Integrating these best of breed scanners with Captiva's enterprise workflow software provided a reliable low-risk platform for the conversion system.
Elision's highly skilled consulting, project management and systems development team enabled the conversion to be implemented within 5 days! Operating over three shifts a day, with volumes peaking at well over 600,000 grayscale images per day, which meant the scanning of the targeted 14 million images was completed within an amazing 30 working days! Elision will deliver the final system fully integrated into the client's existing infrastructure with a bespoke image file server and viewing facility.
Elision demonstrates again its ability to quickly mobilize highly skilled teams to professionally deliver a service that others might consider impossible.